We'd want to go back to December when Taylor Swift and Taylor Lautner were the most talked-about pair in Hollywood. Although the historical landmark has long since passed, the re-recording of Speak Now by the pop singer transports us there instantly.
While the re-release of Speak Now will definitely shine a light on Taylor's romance with John Mayer, there is a song that has us pining for the inside scoop on Taylor Squared, undeniably one of the finest couples of 2009.
In anticipation of the release of Speak Now (Taylor's Version) on July 7, 2023, we take a look back at the relationship between Taylor Swift and Taylor Lautner.
In July of 2009, on the set of "Valentine's Day," Taylor Swift and Taylor Lautner first meet.
What exactly transpired between Taylor Lautner and Taylor Swift? Of course, it all kicks off in the production of a love story. The romantic comedy Valentine's Day stars the 19-year-old singer and the 18-year-old Twilight actress as a young pair in high school. Pictures of the actors playing Felicia and Willy making out on set rapidly went viral, despite the film's 2010 release date.
September 2009: The Notorious VMAs Altercation
Just a few short months after filming together, Taylor Lautner and Taylor Swift reunited at the 2009 MTV VMAs, however, things didn't go quite to plan. Shortly after Lautner presented Swift with best female video for You Belong With Me, Kanye West stormed the stage and interrupted her speech.
"Yo, Taylor, I'm really happy for you, I'mma let you finish, but Beyoncé had one of the best videos of all time!" he stated in the bizarre moment.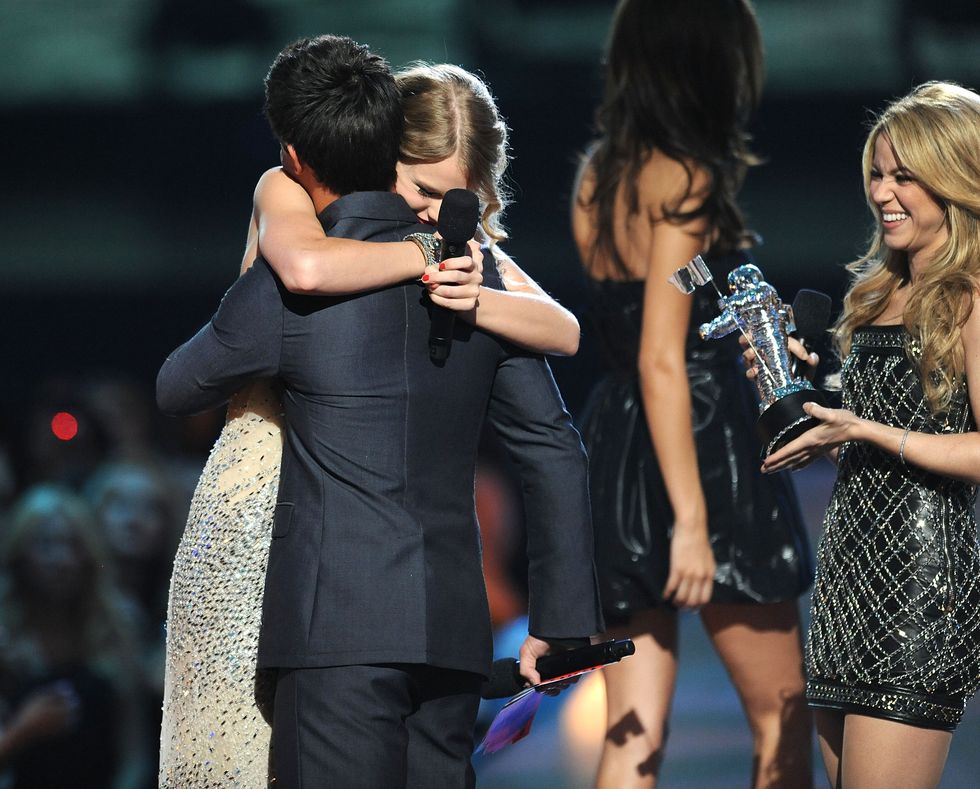 Swift and Lautner announced their love to the world in October 2009
The duo starts *really* fueling any romance rumors shortly after rumors of their relationship begin to swirl. They start making public appearances together, such as at a LA hockey game, a date night at Ruth's Chris Steak House, and at some of Swift's concerts (where Lautner has been seen multiple times).
In the same month, Taylor also refused to confirm or deny her relationship status during an interview on The Ellen DeGeneres Show. Is that scene in the movie where you three go to some type of game together…?" Ellen questioned, drawing attention to the images of Lautner and Swift at the hockey game.Is it a scene from the film as well?
Simply saying, "I really like hockey a lot and it turns out so does he," was Swift's terse response.
During her SNL monologue in November of 2009, Taylor Swift
Swift made her first public comments about her romance with Lautner during her debut hosting of Saturday Night Live. Like any self-respecting Taylor Swift fan, she sung her monologue, which featured the line "If you're wondering if I might be dating the werewolf from Twilight." Before finishing the phrase, she blew a kiss and mouthed "Hi Taylor" to the camera. "I'm not going to comment on that in my monologue."
After the episode aired, Swift told InStyle that she and Lautner had "gotten really close" on the set of Valentine's Day.
For the interview, Lautner added, "Taylor is hilarious. Playing the romantic interest in her story was a breeze.
SNL monologue by Taylor Lautner, December 2009
Finally, we get to hear Taylor Lautner's thoughts on Taylor Swift! Fortunately for SNL viewers, Lautner addressed his new relationship in a monologue during Taylor's tenure as host in 2009.
While the spoof itself didn't reveal anything particularly scandalous, the actor did use it as an opportunity to reflect on his growing friendship with Swift and how he wished he'd handled Kanye's interruption of her VMA acceptance speech.
Taylor Lautner and Taylor Swift break up in December of 2009
People reports the breakup at the end of December, proving once and for all that we can't have nice things.
"It was never a big deal to begin with," a person close to Swift told the magazine. "The media made way more out of it than it i…They went on a few dates and realized this just was not going anywhere."
"They became good friends and then went out a few times, but he lives in L.A. and she lives in Nashville and their busy schedules kept it from becoming more than it was," a source close to Lautner noted.
Although it has never been proven, sources have said they believe the breakup occurred shortly after Lautner flew to Nashville to surprise Swift at her 20th birthday party.
Taylor Swift's song about her boyfriend Taylor Lautner was released in October of 2010.
A little over a year later, Swift dropped the follow-up song to Speak Now from her album. Fans soon made the connection that the song was about her split from Lautner because it was named "Back to December."
If the song wasn't about Lautner, then why did fans assume that? Those lines, "You gave me roses and I left them there to die / So this is me swallowin' my pride / Standin' in front of you sayin' I'm sorry for that night / And I go back to December all the time," are from the song about their breakup in December.
Lyrics in the song refer to the Lautners, Swift's "tan skin," and the "sweet smile" she had with him, as well as their "beautiful times."
Almost every word is same. Because I don't intend to cause anyone harm, this is a song and a conversation that had to take place. Swift told USA Today at the time, "If you make something worse by accident, you need to fix it." I have no problem at all crooning about specifics like dates, names, and relationships. Interview questions like "Are you dating this person?" "Did you date this person?" and "What's your current relationship status?" can be awkward. Suddenly, I'm very self-conscious.
Taylor's relationship with Lautner was obviously special, despite the fact that she has used several of her songs to spotlight her less than stellar exes.
Swift told Glamour shortly after the release of Speak Now that she and her ex-boyfriend remain on excellent terms. I consider him a close friend. We'll remain close since he's fantastic. I really appreciate that," she expressed to the press.
Read Also: Avatar 2 Has Finally Arrived. Check Out This Link To Read Up!
Taylor Lautner discusses re-recording Speak Now in May of 2023.
Now married to a fellow Swiftie, Lautner has continued to offer solace to the world by re-recording his favorite song from the film. Why should he care, anyway? While John Mayor's song was a bittersweet reflection on what could have been, for the guy who inspired it, now happily married, the past is where it belongs.
In an interview with Today, Lautner said he is "safe" with whatever new songs are included with the album and even joked that he was "praying for John" Mayer.
He also posted a video to TikTok of himself kneeling to John Mayer's "Dear John" to mock the singer.