When writer Elise McCredie offered Teresa Palmer the role of Freya, a survivor of The Kindred cult, in The Clearing, the actor didn't need much persuading to take the part, even though it was about a dark subject and would take her to disturbing places. "The world they created completely captivated me," Palmer tells WHO over Zoom from her home in Los Angeles.
A big draw for the podcaster, author, and mother of four young children (Bodhi, 9, Forest, 7, Poet, 4, and Prairie, 1) was the chance to work back in Australia with a great group of women in the cast and crew. Her husband, actor and director Mark Webber, has a 15-year-old son from a previous relationship.
The shoot for The Clearing ended up being both fun and hard work. WHO found out during our chat that the key to making it work is being able to do more than one thing at a time (she breastfed during the conversation), taking time for herself, and having the support of her family.
You are very busy with your family and all the other things you have to do. How do you handle everything?
I'm really tired. I'm just very tired, I don't know. I must do something every day that I can't change. My husband gets an hour alone, and I also get an hour alone. He decides to go to the gym. I do not do that! I take an hour to soak in the tub while listening to a podcast. It's mom time, so I lock the door and no one can talk to me. My mom is usually here, too, so it's just a matter of… I have a lot to do.
You look like you are pretty good at juggling. How wonderful that your mom can be with you so much…
She raised me all by herself, just her and me. She can't stand being alone, and all she wants to do is be with the kids. She says, "They keep me young," and I really like how gentle and kind she is with the kids.
Were your kids with you on set?
They often come to see me on set. I was breastfeeding my baby, who was only a few months old at the time. I was also nursing my three-year-old at the time. In The Clearing, Bodhi plays the best friend of my son. It was great to have them there. I think it was good for the crew's mood because the subject matter was so sad. Having these little kids run around, laugh, and cuddle with the crew made everyone feel better. It was a welcome change. But I made it clear that they couldn't be near the darker things.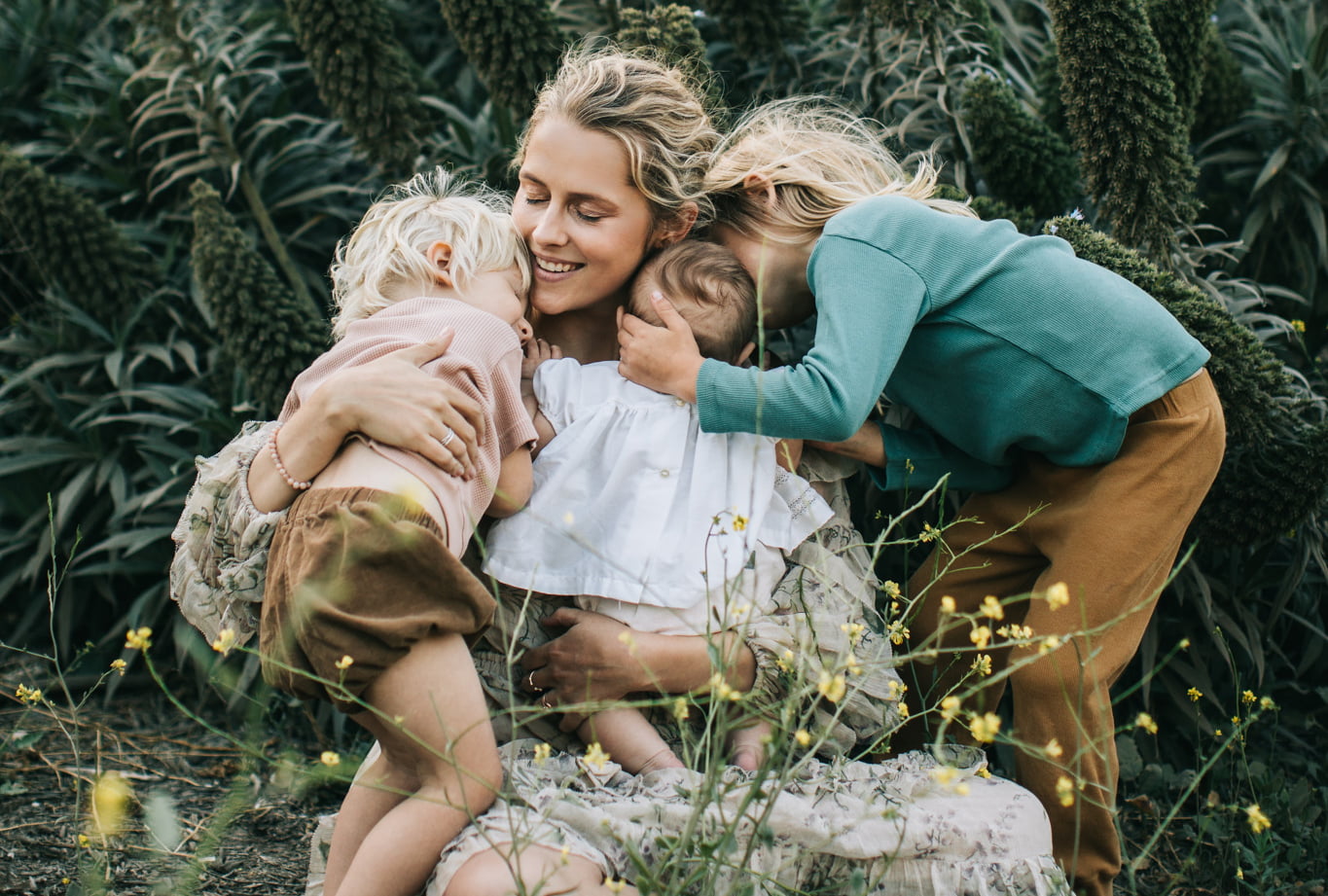 How did you get over the stress of the subject matter and go back to being their mom?
It was hard to do. The plot is really, really sad, and it looks at how people abuse power and how abuse keeps happening, mostly through the eyes of my character. So I had to think about all of these feelings and how complicated they were – it was really scary. People have actually gone through these things, and there are still cults today, so I found it pretty scary.
I couldn't do anything else but leave the work at work because I didn't want it to hurt my kids. I would try to get out of my head on the way home by listening to music and talking to the driver. I would just try to make things more fun. But it would keep me up at night… I was thinking about it, and almost every night I would wake up in a cold sweat and have to tell myself, "It's okay, this isn't real, you're just acting."
Oh, wow! I'm sure it was nice to be able to hug all of your babies on set.
Definitely. I have four white-blonde dogs. The joke was always, "There go The Kindred kids from the cult."
Read Also: How Miranda Kerr And Orlando Bloom Raise Their Child Flynn Together