Just by looking around on social media platforms like TikTok, Instagram, and Pinterest, you can tell that the fashion industry has entered a new era.Minimalism as a style choice is out, while eccentric attire, large silhouettes, and personality are in. While it's true that the term "Scandinavian" has come to mean a certain kind of minimalist, neutral clothing, that's no longer the case.
While many of us have been busy pinning and saving innumerable Scandi-Girl looks, actually shopping for the pieces has proved much difficult, especially when one lives in a country that is about as distant as one can go from Northern Europe.
Don't worry though; we've compiled a list of all the Australian stores carrying the most Scandi-approved brands. Where does the Scandinavian style come from?
The original connotation of Scandinavian style was that of austerity. Think knits, fitted trousers, and muted colours. However, there has been a gradual shift towards a more carefree and vibrant aesthetic. Some of the most well-known 'Scandi-Girls' nowadays are seen wearing outfits that are clearly inspired by maximalism, which emphasizes a harmonious blend of masculine and feminine forms.
COS
COS has become the go-to brand for consumers seeking Scandinavian minimalism due to its dedication to timeless design and sustainable practises. Their clothing is characterised by simple silhouettes, expert craftsmanship, and luxurious fabrics that can be worn from day to night. COS is the best place to begin constructing a Scandi wardrobe due to the store's harmonious blend of minimalist silhouettes and bright, striking hues.
Shop our top picks at COS
Padded Liner Jacket | AUD$190.00
Boxy Alpaca-blend Jumper | AUD$135.00
Mohair Oversizes V-Neck Cardigan | AUD$265.00
Ganni
With its fresh and colourful take on Scandinavian style, Ganni Ganni has won the hearts of fashionistas all over the world. Ganni is a standout brand for those looking for a more daring Scandi-inspired appearance, thanks to its blend of vibrant designs, feminine silhouettes, and unusual colour combinations, which infuse a sense of fun and personality into the minimalist aesthetic.
Shop our top picks at Ganni
Shirred checked organic cotton-blend seersucker blouse | AUD$307.00 NOW AUD$153.58
Oversized checked cotton-blend seersucker mini shirt dress | AUD$387.00 NOW AUD$198.00
Seersucker Check U-Neck Maxi Smock Dress | AUD$419.00 NOW AUD$251.40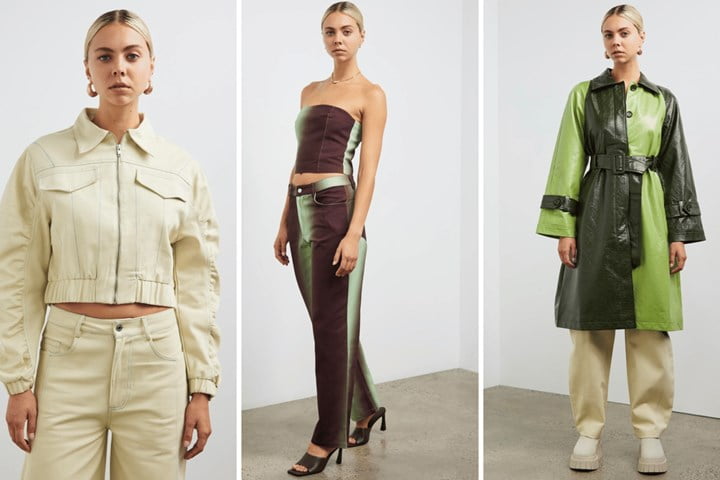 Hosbjerg
Hosbjerg is a Danish fashion label that blends classic Scandinavian style with cutting-edge flair. Hosbjerg is a Danish fashion house that produces women's apparel and accessories that convey a chic, understated sophistication.
Shop our top picks at Hosbjerg
Jakobe Launch Jacket | AUD$290.00
Joy Fade Pants | AUD$290.00
June Tori Jacket | AUD$370
Samsøe Samsøe
Samse Samse is a Danish fashion house that has built a name for itself in the Scandinavian fashion industry with its sleek, modern pieces. The Samse brothers, Klaus and Preben, started the company in 1993 in Copenhagen with the goal of creating minimalist yet practical products.
Shop our top picks at Samsøe Samsøe
Emy Long Dres | AUD$359.00
Lia Coat | AUD$475.00
Agneta Dress | AUD$355.00 NOW AUD$106.00
Read Also : Charlbi Dean, Dies After Sudden, Unexpected Illness