New South Wales has held off a bid from Queensland to steal the NRL grand final, with Australian Rugby League Commission boss Peter V'landys confirming Sydney will host the premiership decider.
The ARLC had been at odds with the NSW government after Premier Dominic Perrottet backflipped on a promise to fund upgrades to suburban grounds, with V'landys threatening to move the grand final interstate.
New South Wales to Host NRL Grand Final After Holding Off Queensland Bid
Queensland's Suncorp Stadium hosted last year's decider due to Sydney's COVID-19 lockdown.
"We have made a decision that we think is in the best interests of our fans," V'landys said.
"This is only for one year. Negotiations will re-commence for future grand finals."
Queensland Premier Annastacia Palaszczuk is believed to have offered around $10 million to have the game played north of the border.
Speaking on Nine's Today, Perrottet wouldn't be drawn on how much NSW has had to stump up to retain the match.
BREAKING – The winner is .. Sydney, @AccorStadium to host #NRL Grand Final, official announcement 1.30pm, full coverage @2GB873 #Drive

— Jim Wilson (@JimWilsonMedia) August 18, 2022
The vibe around Qld Parliament House is the Grand Final is not coming to Queensland.

— Tim Arvier (@TimArvier9) August 18, 2022
"It's probably not as much as Queensland have offered, but more than we've paid in the past," he said.
"I've made it very clear that the game should remain in our great state. Now, that's obviously a matter for the NRL. The game has always been played in NSW. It has been an institution for our people. That's where it should remain."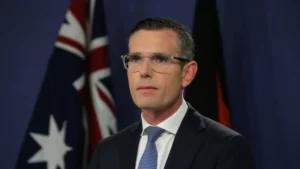 It is also reporting the NRL would stand to rake in $10 million in revenue if the Grand Final was held inside Brisbane's Suncorp Stadium while the NSW offer at Accor Stadium would net a lower profit of $7 million for the competition.
Mr V'landys has insisted the decision of hosting rights remain on a "knife's edge"
Mr V'landys has insisted the decision of hosting rights remain on a "knife's edge" after another round of negotiations with both governments on Tuesday.
"I have to be honest, I don't know the answer right now," he said.
"For the first time in my career I can't tell you one way or the other. We are making a final call on Wednesday, we will bite the bullet.
"Like any good board, we needed more information. We need to have the maximum amount of information to make the best decision we can make."
Mr V'landys has flagged that the talks between himself and the newly appointed NSW Sports Minister Alister Henskens have been in "good faith" despite the recent clash between the state government and the ARL.
"It's not as if we have been at war with each other. I think people are trying to paint it in a different way to what it is," the ARL chairman said.
"The discussions in the last week have been in good faith."
NSW remains the favourite to hold onto the NRL Grand Final due to a contract with the competition to keep the decider in Sydney until 2042.
The ARL Commission board will meet at 5pm on Wednesday to make its final decision.
See Also: New PTSD Treatment To Help Veterans After Damning Report