Comanchero's bikie boss Mark Buddle, who is Australia's the most wanted man, has returned to Australia and was arrested by the police after being extradited form Turkey. Buddle spent time in Dubai before settling in northern Cyprus, which does not have an extradition treaty with Australia, according to local media.
Mark Buddle: Head of Comanchero arrested in Darwin over $40 million cocaine import
The 37-year-old was expelled from the Turkish-controlled territory in early July because his presence was inconvenient in terms of public peace and security as per the interior ministry.
From there he went to Turkey, which does have an extradition treaty.
Buddle was arrested in Darwin on Wednesday after being deported from Turkey.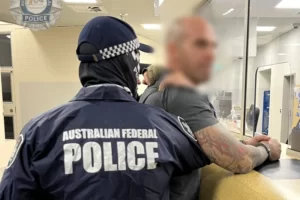 The Australian federal police assistant commissioner crime, Nigel Ryan, said police would allege Buddle used the Anom app. Anom app is  set up by authorities to pose as a safe encryption messaging service.
Ryan publicly revealed for the first time the existence of a transactional offshore taskforce which had targeted Buddle. "Australians who think they can hide in perceived safe heaven… take this as a warning" he said.
"The AFP will be relentless in pursuing you, we are dedicated and we are focused."
Mr. Buddle reportedly took over leadership of the 'bikie' gang – as such groups are known in Australia – in 2009, after then leader Mick Hawi was jailed over a fatal brawl with another gang at Sydney Airport.
The charges stem from Operation Ironside, which monitored communications on the encrypted network criminals thought was secure but was being monitored by the AFP and the FBI.
More than 250 people have been charged in Australia under the operation.
No charges have been brought in the US, where privacy laws prevented arrests.
He was accused of murder charges
As per the police Mr. Buddle is also a person of interest in the shooting murder of a Sydney guard in 2010. Mr. Buddle fled to the Middle East in 2016 after he was named as a person of interest in a murder investigation.
Read also:  Where you can watch Conversations with friend in Australia.