Winter's nearly over and, with COVID-19 daily case numbers declining, you could be forgiven for hoping the coronavirus pandemic is coming to an end too.
But experts say that could still be very far from reality.
Let's find out why by looking at the COVID figures.
Charts show case studies on the decline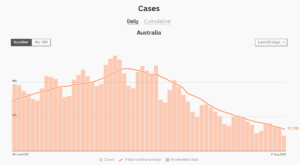 Australia reported 55,000+ new COVID-19 cases on July 21, with warnings of more hospitalizations and deaths.
Here are the daily numbers according to ABC's charting:
In the last few weeks the daily number of cases have been between 20,000 and 10,000.
Hospitalizations for the current outbreak peaked on July 26, with 5,571 cases in hospital.
The seven-day moving average has dropped by about 60 per cent since then.
Australia recorded its highest daily death toll on July 29 with 157 deaths.
Back then, the seven-day moving average was 157, on Saturday, it was down to 62.
How is Australia's COVID fatality rate
Our World in Data, which uses figures from the Johns Hopkins University COVID-19 Data Repository shows Australia's case fatality rate was between 1 and 3 per cent before vaccines.
This month, it's at 0.14 per cent.
Director of Victoria University's Mitchell Institute for Education and Health Policy Maximilian P de Courten put this improvement down to vaccines as well as better treatments and protocols developed as the pandemic went on.
What is the current state of COVID-19?
Probably not, Dr de Courten said.
"One cannot say that this is the beginning of the end because unfortunately this virus has shown that, every six months or so, it's coming up with a significantly different variation that we ride another wave [of]," he said.
"It's a numbers game – it's basically happening as an error in replication and the more virus there is out there, worldwide, the more likely that it's happening somewhere.
"At the moment, there's still a lot of coronavirus out there."
What is the lifetime of COVID-19
While daily case numbers are tracking downwards, James Wood from the University of NSW's School of Population Health said that doesn't mean it's all over.
He reckons the global pandemic will stretch beyond the end of the year.
"Definitely we're in a decline phase for the pandemic and, at the moment, I'm expecting that to last until about the end of the year — if not longer — in Australia," Dr Wood said.
"However, I wouldn't be surprised if we see a wave in the Northern Hemisphere winter, so I don't think we'll have the same patterns everywhere over Christmas and New Year.
"A pandemic is normally declared when you have epidemic activity of a novel virus on multiple continents at once, so we won't be out of the situation by then."
How will Australia be like after the COVID-19?
"I think we will continue to rely on vaccines adjusted to match circulating strains probably once a year, although I wouldn't be too surprised if it was twice in the next 12 months, and that the priority there will be for people at higher risk," Dr Wood said.
"I don't think there will be much appetite for widespread mask-wearing, but in aged care and health care settings I could see this becoming more standard in times of high circulation of respiratory viruses."
See Also: iPhone 14 image leak teases tantalising view of rumored Apple flagship